HANDMADE PRINCE CARL STEIN
Own this Limited Edition Handmade Stein and help support H.O.A.M.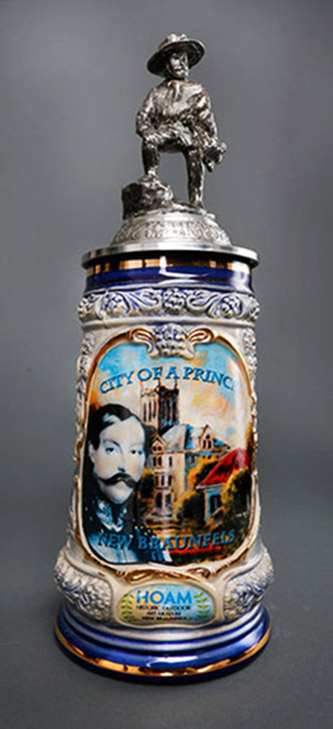 This stein is handmade by Thewalt Company founded in 1894 in Hoefr-Grenzhausen, Germany (facility where official Wurstfest steins are created.) It is made of genuine stoneware with German pewter (lead free) lid, is 11-1/4" tall with 24k gold trim and holds 1/2 liter of your favorite beverage.
Each stein is a limited and numbered edition. All profits from the sale of these steins benefit the Historic Outdoor Art Muesum whose mission is to highlight history and honor heritage through providing museum quality outdoor art as seen throughout the city.
Born July 27, 1812, Prince Carl of Solms Braunfels, was a German prince, a military officer and served as Commissioner General of the first colony that the society, known as the Adelsverein, established in Texas. He arrived on Texas soil on July 1, 1844 and purchased 1,265 acres on the Guadalupe River, including the Comal Springs, where he founded the colony of New Braunfels, Texas on March 21, 1845.
The caricature that stands atop the stein is taken from the life-sized bronze statue created by bronze artist Paul Tadlock, located at 390 South Seguin Avenue in front of the New Braunfels Civic and Convention Center. The artwork on the face of the stein was created by artist Brent McCarthy and production/layout by Dan Tharp.
Price: $175.00
Tax: $14.44
Shipping: $15.00
$204.44